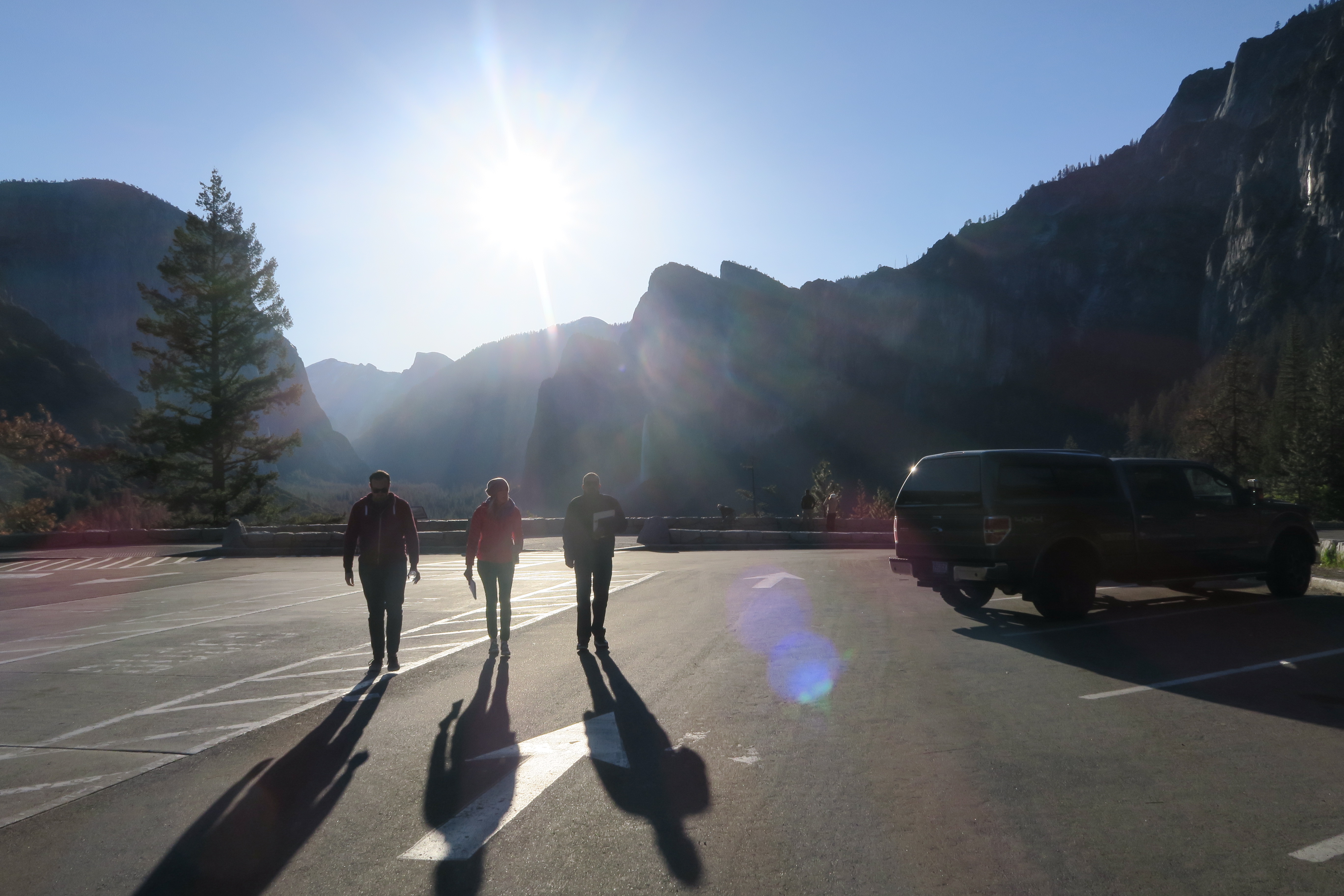 Yosemite National Park is a big place. It's a challenge to prepare visitors for all of the factors involved in shooting film here.
The sun moves fast through the sky, lighting changes quickly, and locations — in general — are not close to each other. The weather can change in minutes, or not change at all, and forecasts are educated guess's at best.  Any travel between locations requires time. The roads are twisty 2 lane, and in the instance of traveling from Yosemite Valley to the parks South Entrance, there are no passing lanes. You have to hope that slower traffic will be courteous, use pullouts, and let you pass if they are sightseeing. The speed limits are strictly enforced, and they are low. Navigating the one way loops (South Side Drive, North Side Drive), and the intermittent 2 way roads between, can be tricky for those new to the Valley. It's totally possible to burn an hour or two in Yosemite N.P. just sitting in traffic or backtracking to a location. Having someone with you who knows the high/slow traffic bottlenecks can save you a lot of time!
You have to do a lot of planning to pull of a good and efficient Yosemite National Park photo/film shoot, and that is where I can help out.
Yesterday I did a creative location scout with the friendly folks from Matter Creative. I have been working with Matter for a couple of months assisting in their pre-shoot planning and scheduling. With the aid of my Location Gallery Archive in their research, they were able to make informed decisions way ahead of the creative and technical location scout days here in Yosemite. On May 1st, we charged through Yosemite National Park scouting over 20 locations, experiencing  dramatic weather conditions, dodging weekend traffic, and managed to do it all in 11 hours.
We travelled from Tunnel View (Shoot Base) to Turtleback Dome, hiking and scouting much of the dome. (Note: it's a lot bigger than people think when they look at it from the highway!) From there we travelled to the trail head for Taft Point and Sentinel Dome, Washburn Point and scouted the hairpin switchbacks between Washburn and Glacier Point parking area. At Glacier Point we hiked out to the overlook, and then a way down 4 Mile trail. For reference, the drive from Tunnel View to Glacier Point is about 40 minutes average driving at the speed limit the time depending on traffic and weather … it can be longer.
We then travelled back to Yosemite Valley scouting Bridalveil Falls, Cathedral Beach, Sentinel Beach, Swinging Bridge, Liedig Meadow, the Chapel Area, Sentinel Bridge, Cooks Meadow South, then a well planned stop for lunch at the Village Grill. After lunch we visited Ahwahnee Picnic Area, Church Bowl, the Majestic Yosemite Hotel area and trails. We cut to Southside Drive by Cooks Meadow (quick hike), Sentinel Bridge, then east to Stoneman Meadow.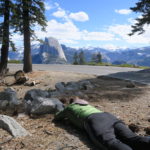 Turning back west, we crossed Stoneman Bridge and sat in the usual traffic for a bit (which is why I suggested cutting over to Yosemite Village for lunch when we got to Sentinel Bridge and everyone was feeling ready for some food, and they would have been waiting lot longer if we'd continued east at that time), past Yosemite Village to Cooks Meadow (north side). A short drive to Yosemite Falls parking area, and a hike to Lower Yosemite Falls and back. Then on to Camp 4, El Capitan Meadow, Bridalveil Falls View (from Northside Drive), Grand View Point, and a drive up Oak Flat Road to Cascade Falls bridge. On the way back to Tunnel View we made a quick stop at Fern Spring.
This is basically the same route I would travel when doing a location scout of Yosemite Valley, except I would have to stop and spend more time at each location to shoot photos! Tough to do in a day.
It was a great location scout day. Time well spent and carefully planned to be efficient, yet still give everyone time to breath and see some of Yosemite National Parks most amazing photo/film locations.